Hey everyone!
Many of you have seen these pictures of me
skating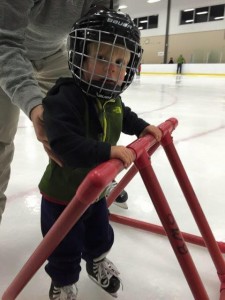 with the boys the other day. We plan to go to the arena as often as possible this winter. Both boys seem to like skating so far!
This summer we focused on swimming and biking. Both boys can swim well, going underwater and in the deep end. It's funny and a bit unnerving to watch a 22-month-old jump off a diving board, into the water, and swim to the side of the pool.
We try to go four to five times a week, so they have been able to pick up quickly. The boys also really enjoyed riding their bikes at the skate park this summer. They became quite amazing on their bikes. Once again, watching a 22-month-old, still in diapers, drop into a half pipe is nerve-wracking for the parents!! Both boys wracked up some spectacular crashes, but the only injuries were a few cuts and bruises.
As a father, I am so blessed to be able to spend this time nurturing a love for physical activity in the boys. Here are some videos of our fun-filled summer days. Some were taken with my beloved Blackberry so the quality is not that great.  Enjoy!
Jumping off the counter: This first video is not biking or swimming, but I love it because it shows the boys' little boy spirit. I was sitting at the kitchen table reading and Wyatt was in the hearth room. When I looked up, he was jumping off the counter onto the couch. He didn't know anyone was watching; he just thought it would be fun. Jumping off the counters is not allowed (often) at our house, but he did get a few leaps in before I stopped him!
This is a video of the dirt park, as the boys call it. The video doesn't do the hill's steepness or Gryffin's speed justice. They love the dirt park because it's often wet and muddy.
The next three videos are at the Fall River skate park. You might notice they are in pajamas in some of these videos. We usually go to the skate park in the morning and the swimming pool in the afternoon.
The next three videos are at the Halifax Commons skate park. In the first video, you can see Gryffin comes close to colliding with Wyatt. This happened more times then you can count. A huge skate park and still they were able to find each other and collide!!
I hope you all had a great summer, as well! We're looking forward to many days spent at the rink and in the snow this winter!
Claude